Visionnaire, this month of June 2016, is turning 20! What I'm about to say on the next line I know is cliché, but even so, here it goes: "It looks like it was yesterday ..."
06/06/2016
Categoria News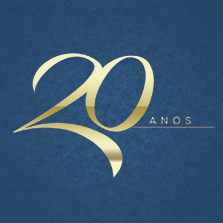 Yeah, it seems like yesterday, in June 1996, that we were born. In fact Visonnaire already operated even before June 1996, but without the name Visionnaire yet. On June 10, 1996 Visionnaire was made official at the Commercial Board of Curitiba.
As a result of the union of four people, who were colleagues and idealists of a better Brazil at the time, Visionnaire began operating as Visionnaire Consultoria em Informática. Flavio Bortolozzi, Manoel Camillo Penna, Vinicius Malucelli and Sergio Mainetti Jr. were the founders, and had as their common point of contact the PUCPR (Pontifical Catholic University of Paraná). The four had just returned from Masters and Doctorate programs in Brazil and abroad, Flávio and Manoel with PhD in France, Vinicius with Masters in Rio and Sergio with Masters in the USA. Everyone in the computer field, each with their own expertise. The first joint performances were in consultancy and training, the four were also teachers, which made these jobs seem an extension of their own teaching activity.
But soon came the software development activity, and already in the first months Visionnaire had clients in software projects, the first clients were Siemens, Bamerindus (later HSBC Bank) and research projects with PUCPR.
For young people who are setting up startups these days, it is very difficult to imagine the computer scene in Brazil at that time, there was no connected world as it is today, there was no Internet at home (it was exactly in 1995 and 1996 that formerly Embratel began making Internet available to people and businesses in Brazil), oddly enough, Google did not exist (according to Google's own search, Google was founded on September 4, 1998).
Visionnaire was one of the first companies in Brazil to develop software for the Internet (or as it was also called Web software), it was the first company to develop software in modern technologies for the time (Java language, Object Orientation, Object Distributed). Visionnaire was an official representative of OMG (Object Management Group) and created what was at the time, Brazil's premier corporate software development event, "Distributed Objects", which lasted for nine years.
In today's terms, we were a Startup, created by idealistic young people who worked hard (if possible 24 hours a day every day of the week) with a strong academic bond (which we preserve to the present day) and already with much experience!
From the years 1998 and 1999 we experienced the so famous Internet boom, which in Brazil started a few years later than in the USA, but lasted until the turn of the millennium. Visionnaire was the seventh Brazilian company approved in the Prosoft program of BNDES (National Development Bank) receiving a capital contribution, which for us was significant, it was at this time that we also changed the name to Visionnaire Informática S.A.
It began a phase of rapid growth, and if that wasn't enough, we were approached by six other private investors (now called Venture Capitalists, or VCs) and struck a deal with Banco Pactual in 2000 for a new round of investments. Later, in 2004, Banco Pactual sold its stake in Visionnaire to Ideiasnet (a publicly held holding company on Bovespa), which remained a partner until 2010.
Rapid growth is an interesting event that some technology companies experience, over a period of about a year we have grown from 14 to almost 100 people. At this time with clients such as HSBC Bank, Siemens, Telemar, Brasil Telecom, TecBan, Petrobras, Unimed, FIEP among others.
There is no Brazilian company that has not experienced crisis, and of course we had our difficult times. The world began a period of crisis that was symbolically marked by the date of September 11, 2001 with the terrorist attacks in the USA and the collapse of the New York towers. Soon after Brazil began a period of fundamental political change, which made the market highly unstable, and we moved on to all this.
Crisis and difficult phase nobody likes to remember, because they cause changes unlike growth (shrinking people, not renewing contracts with customers, financial difficulties, etc.), so we will not talk much about this phase here. :-)
TIME CURE EVERYTHING, WORM WITHOUT WORK AND STEVE JOBS
Over time everything gets fixed, added to that a high dedication to work allows any difficulty to be overcome, and that's what happened. But there was also something that many had anticipated, computing continued to grow, continued to enter all sectors and continued to be a competitive differentiator for any company in any industry. We're in the computer business, in the software business, and that's a good business these days.
In 2007 Steve Jobs, the founder of Apple, came to the public stage and launched the iPhone. Even speaking loud and clear to the world what the coming years of computing would be like, the vast majority of people have not heard [1], but we have. What has been seen in the coming years is what we today call the "consumerization" of computing, that is, computing is no longer a luxury item that only large companies had access to and is now in the hands of all "consumers" and Visionnaire was not out of it (no wonder we have Visionary in its name) [2].
Even though we are a company with over 20 years of experience in computing and software systems development, we always innovate and work with new technologies. We have been able to connect years of experience with today's innovative technologies.
And that's just the beginning. There are not many computer companies over 20 years old that have always worked with innovative technologies in Brazil. We know that 20 years in "computer years" is almost Jurassic, but at the same time we also know that 20 years is the age of a young man who is at the height of his energy, seeing an avenue of opportunity ahead. And that's how we feel, experienced as always, but young as ever.
We are ready for the next 20 years, and the next, and the next ... Not only in work and innovation, but also in creation! Let's create the next 20 years together! Welcome to the new age, welcome to Visionnaire.
It is quite comical what some people thought (not only thought, but also wrote) about the iPhone in 2007. This article demonstrates this. And in this case it's not just anybody, it's the great and celebrated author of marketing books, bestsellers around the world, Al Ries. adage.com/article/al-ries/iphone-fail/117355/.
[2] To learn more about our Mission, Vision and Values, see: About Us