We have been developing software for 25 years and delivering production systems to our customers
08/06/2021
Categoria News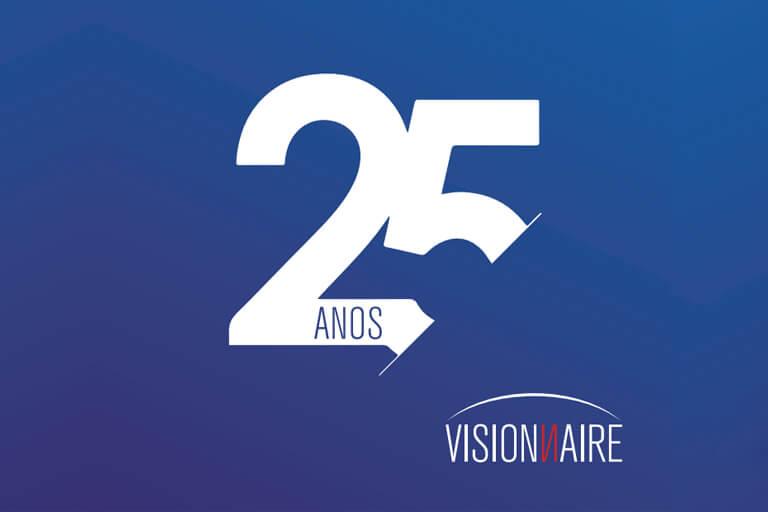 Sometimes we can't even believe it, but it's been 25 uninterrupted years developing software, every day, every hour (even at dawn sometimes), every minute. It doesn't even seem like a quarter of a century ago, four idealistic "boys" got together to create what is now one of the most respected software development companies in Brazil (and currently, going worldwide).
In the IT area, something 25 years old is already considered a "dinosaur", but we are proud to be able to combine experience with innovation. Since our conception, we decided to work with the technologies of the future, and we never stopped. Being a visionary is in our name, a "Visionnary" is one who is beyond his time.
And in this moment of celebration what we have to do is to thank. To thank since the people who participated in the design of the company (Flávio, Manoel, Vinicius and Sergio), going through all the partners, companies, investors and employees who were part of this history, and arriving at what is today our greatest asset, a large list of satisfied customers, who managed to work together with Visionnaire, to transform their business through the use of technology.
We develop software that goes into production, which is used every day by our customers and our customers' customers, and which transforms their companies and society for the better.
We created an institutional video to record this date, and we would like to share with everyone this date, June 10, 2021, the date that Visionnaire turns 25 years old.
Congratulations to Visionnaire!
And thank you all for your trust and partnership in all these years.
Sergio Mainetti Jr. is Director and Co-founder of Visionnaire.